Our tips for taking care of your ear piercing
Do you want to take precautions and find out about the maintenance of your piercing before or after the act of piercing?
You have come to the right place, we are going to reveal our advice and tips to facilitate the maintenance and healing of your piercing, are you ready?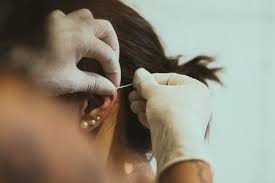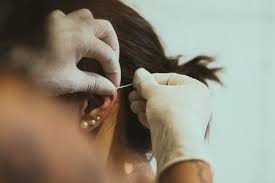 1. Choose the right professional piercer
Before carrying out the act of piercing and so that it is carried out in the best conditions, whether on the lobe or on the cartilage, make sure you choose the right piercer around you, for that look at the google reviews and inform you with those around you.
Please note that we advise you not to choose piercers using the gun for the holes on the cartilage. This can be dangerous for the health of your ear and could cause irreparable damage.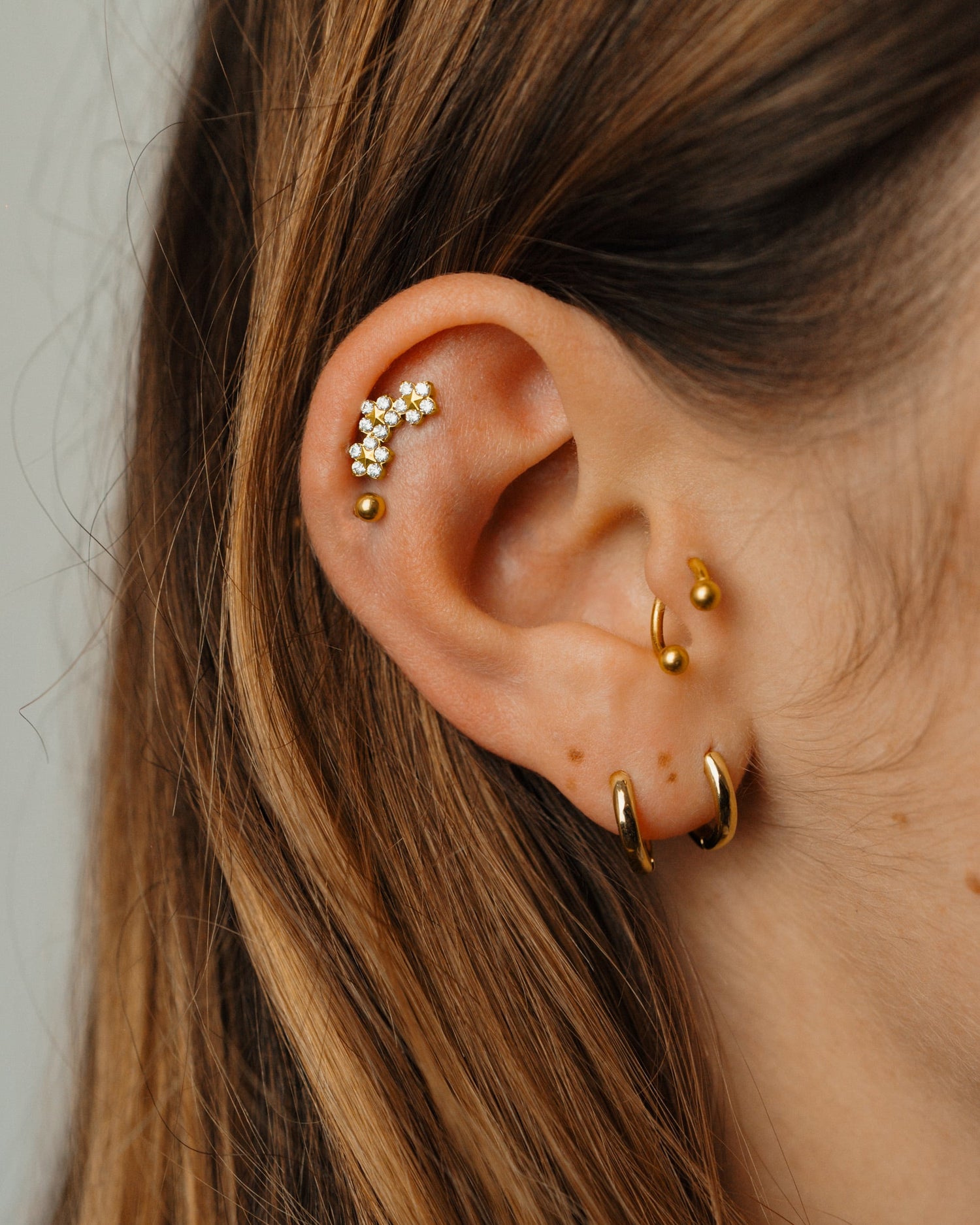 2. Choosing the right materials for your piercing
It is necessary to know that it is not possible to put certain materials directly after the act of drilling.
We advise you to follow the materials recommended by the APP ( Association of Professional Piercers ) for the act of piercing:
Niobium
Platinum
Glass
Gold
At Bélizé Bijoux, we are aware of this and have created a range of titanium piercings grade ASTM-F 136. You can ask your piercer to sterilize it in order to wear them directly after the act of piercing.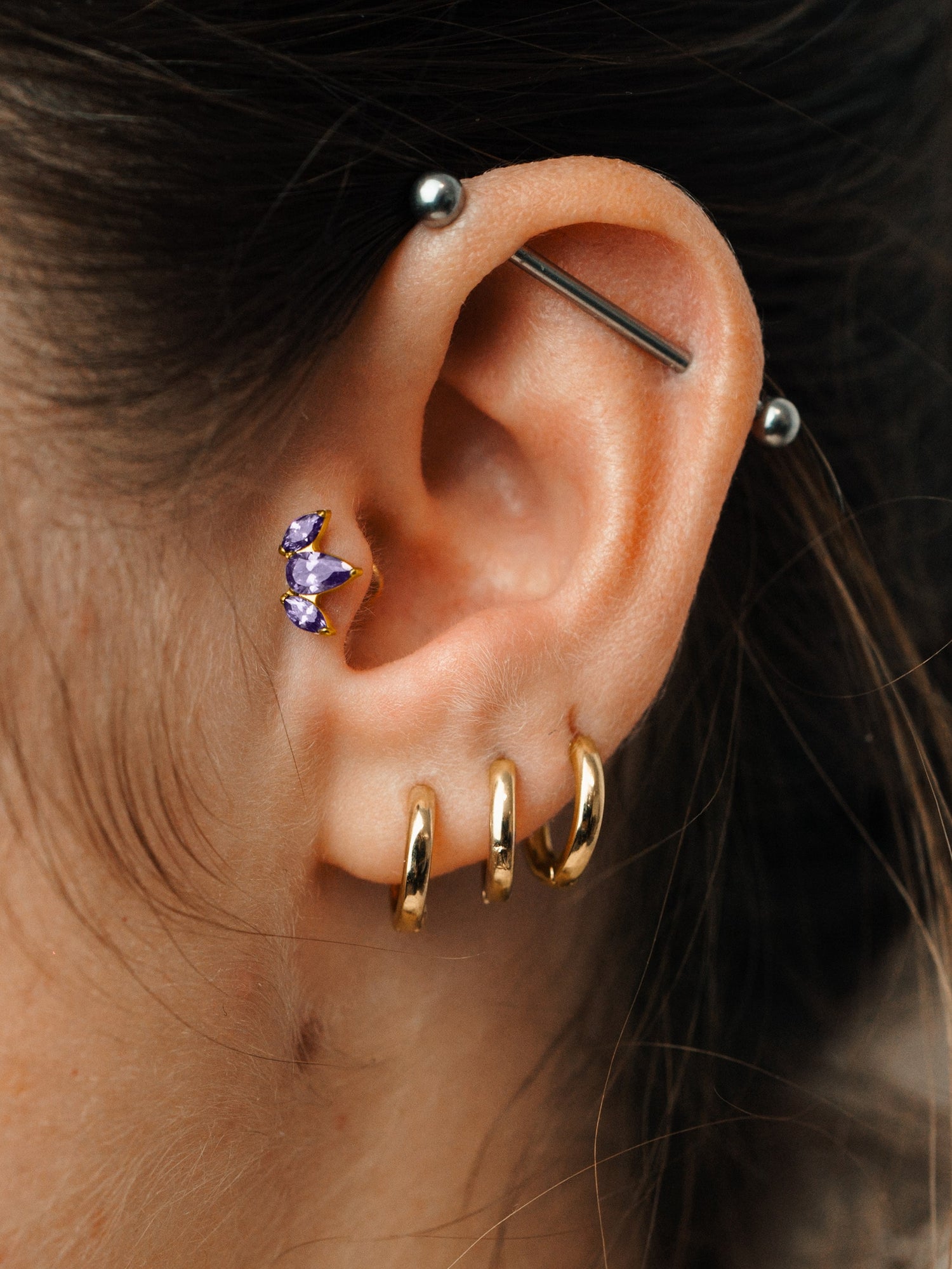 3. Essential, do not touch your piercing
Do not use headphones while healing
It is important not to wear headphones, especially when you have just had your tragus, daith, rook or conch piercing done. Because they are known to stay in your pockets or purse and are often filled with bacteria and in direct contact with your new piercing.
Be careful with your clothes and when you sleep
When you wear wool sweaters, tight-fitting long-sleeved t-shirts, scarves or hats in winter, be careful when taking them off, in addition to hurting yourself, it could lengthen its healing.
Similarly, during the first week after the act of piercing avoid sleeping on the pierced ear.
Do not worry if the first few days after the piercing, you see scabs forming around the piercing, this is normal. Above all, do not remove them, you risk getting bacteria and microbes on them. They will fall out on their own during your shower.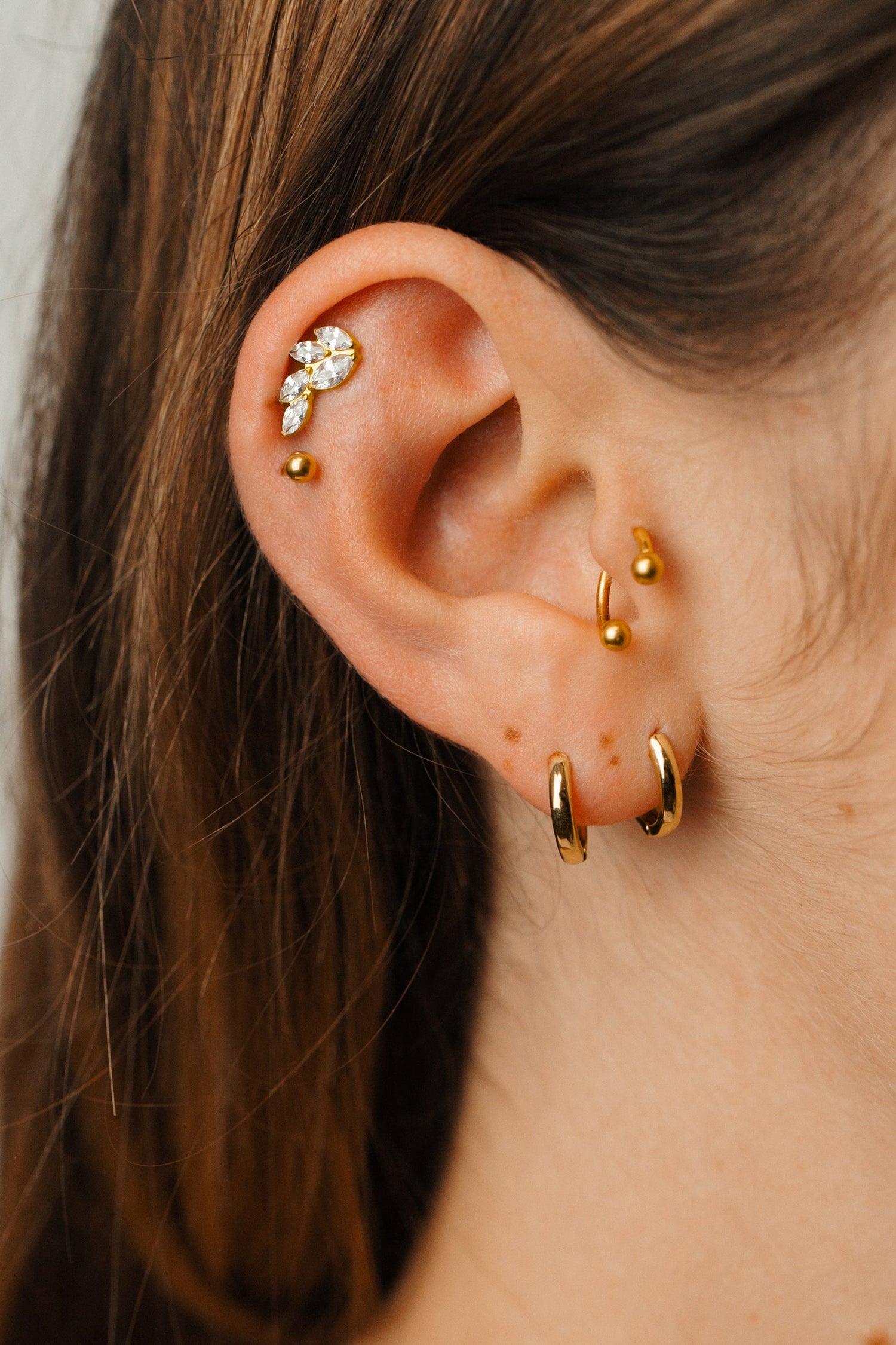 4. Take care of your new piercing
Any professional piercer will give you a path to follow to clean and maintain your piercing :
1. During your shower, running your ear under hot water for a few seconds is enough, do not let too much moisture settle around your piercing.
2. After washing your hands, clean your piercing with a neutral pH soap and rinse it with clear water or saline
3. Use a clean compress (preferably sterile) and gently dab the area around the piercing
Note that the healing of your cartilage piercing can be long, between 6 to 12 months.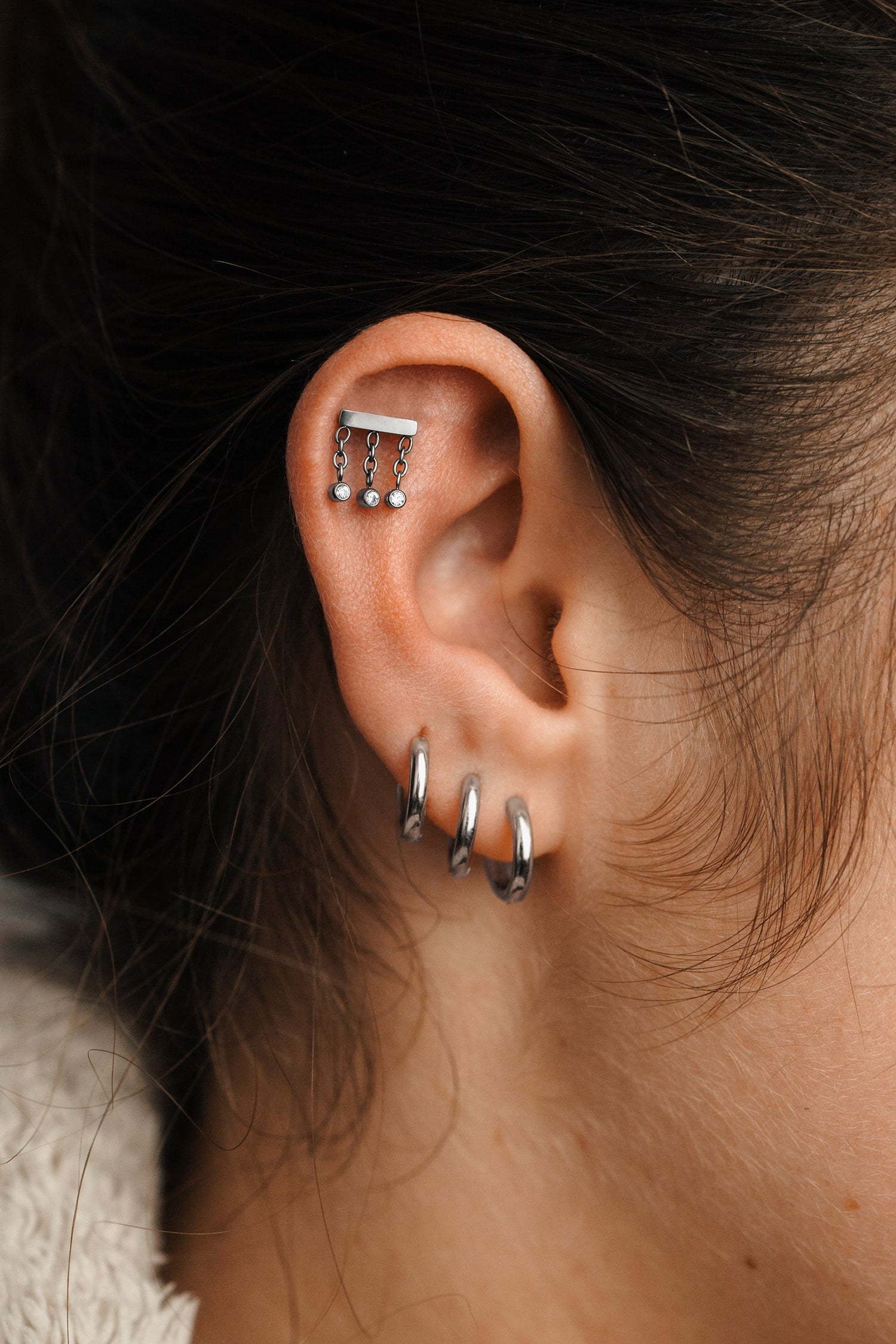 5. Important, do not use antiseptic to clean your piercing
- It is very important to use an antiseptic spray only if swelling or infection occurs. Indeed, if you use an antiseptic spray to clean your piercing on a daily basis , this will destroy the good bacteria protecting your ear, and if in this case an infection occurs, the good bacteria will no longer protect your ear and the infection may be more severe.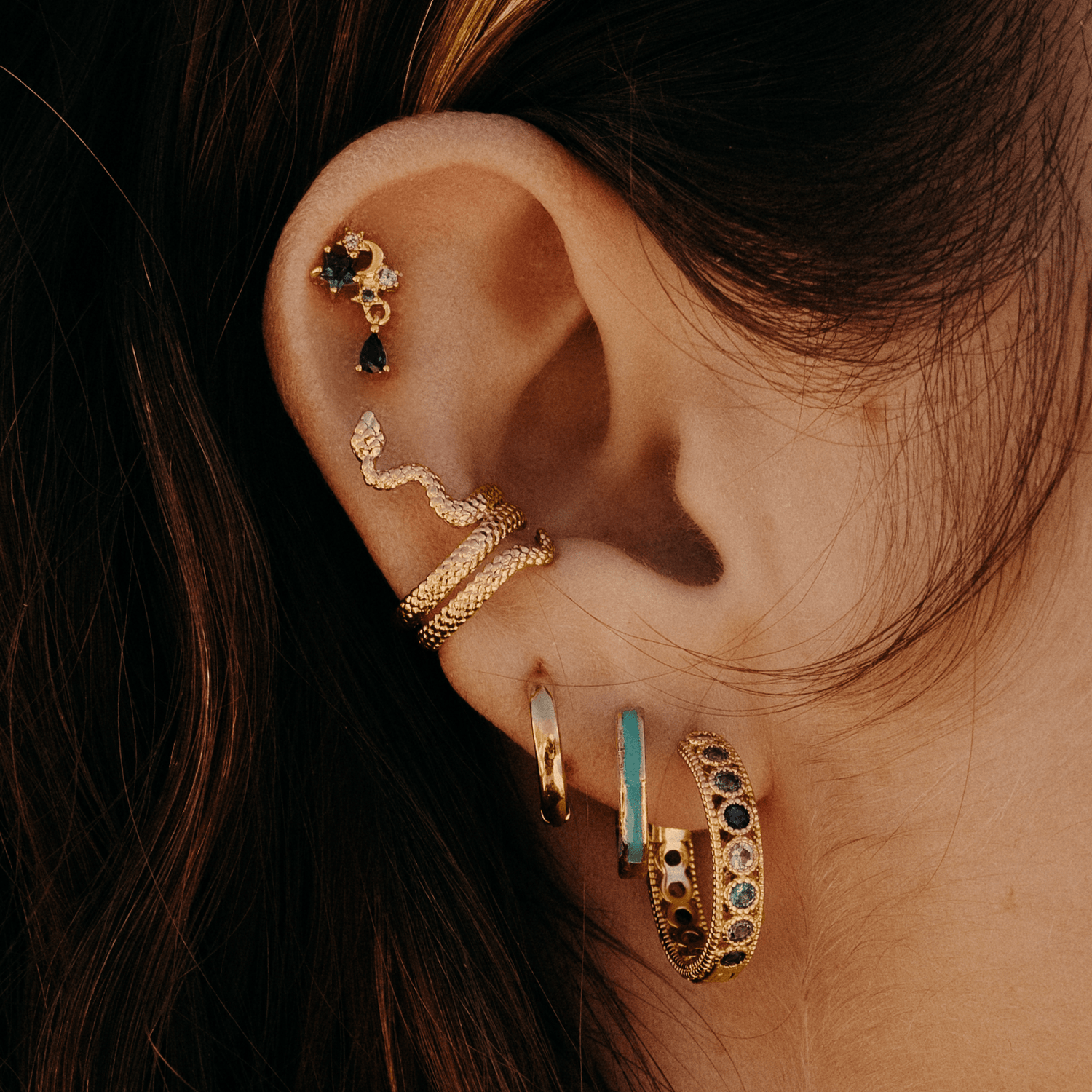 6. Finally, limit contact with humidity as much as possible
The first weeks after the piercing , avoid as much as possible, out of the shower, prolonged and submerged contact with water.
Germs and bacteria are contained in sea, lake or swimming pool water. So be patient to put your favorite wonders from our shop into your new healed piercing.
Once healed, you can opt for one of our 18-carat 3-micron gold-plated jewelry from our collection, water-resistant and life-resistant, it will make your ears shine: mini hoops , hoops , piercing or if you don't have no piercing yet opt ​​for our earrings without piercing which will allow you to have a "piercing" without the need for the act.
In the meantime Bélizé Bijoux wishes you good luck for this long stage, but we are sure it will be worth it!