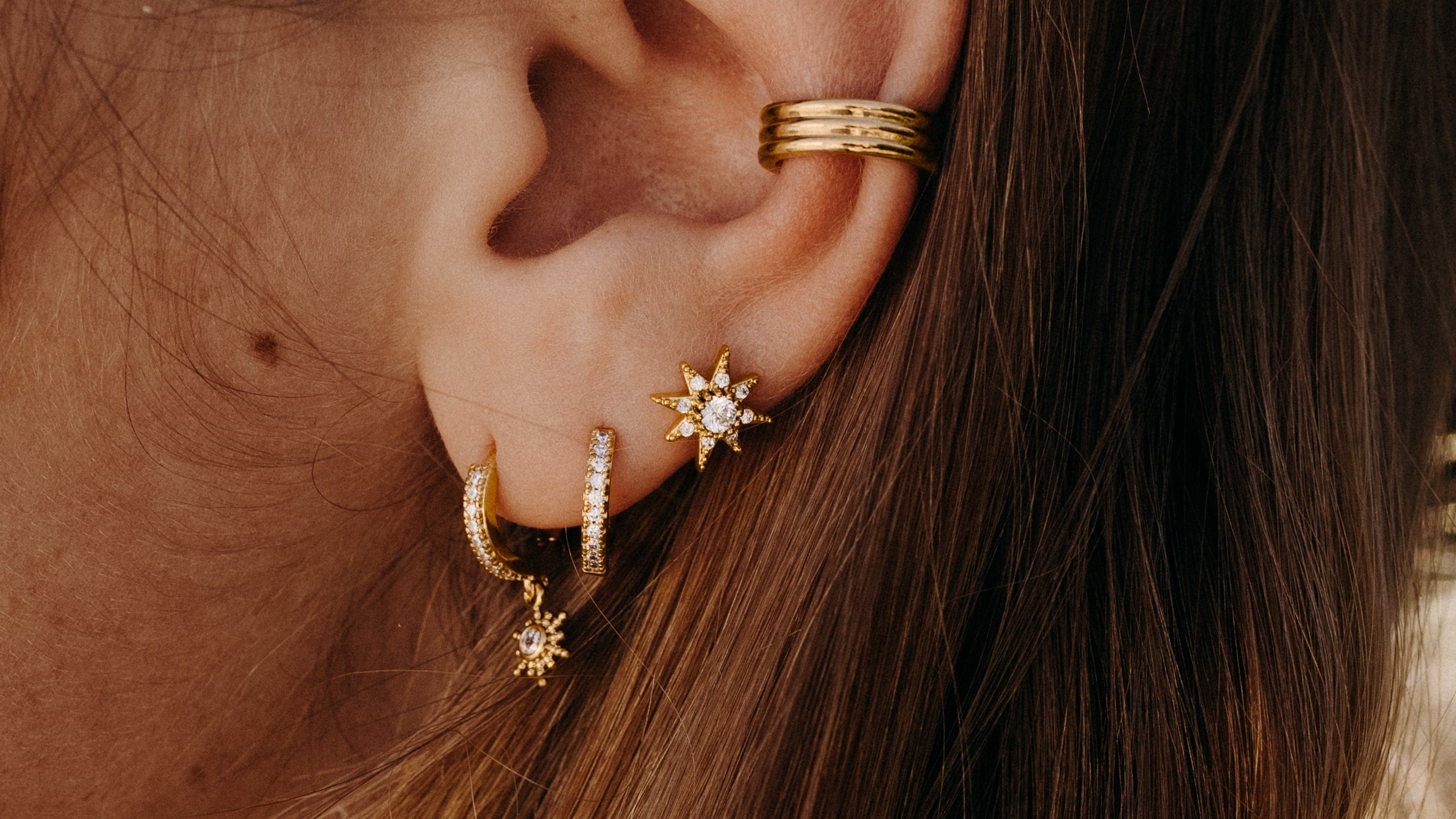 Mini hoops: timeless jewelry for all styles
Mini hoops are essential and timeless jewellery, which have been worn by women all over the world for decades. Whether you're looking for understated jewelry for everyday wear or stylish accessories for a special night out, mini hoop earrings can be a great choice.
In this article, we are going to discuss the popularity of mini hoop earrings , their unique features, as well as some tips on how to wear and match them with different clothing styles and finally give you tips on how to put on your earcuffs!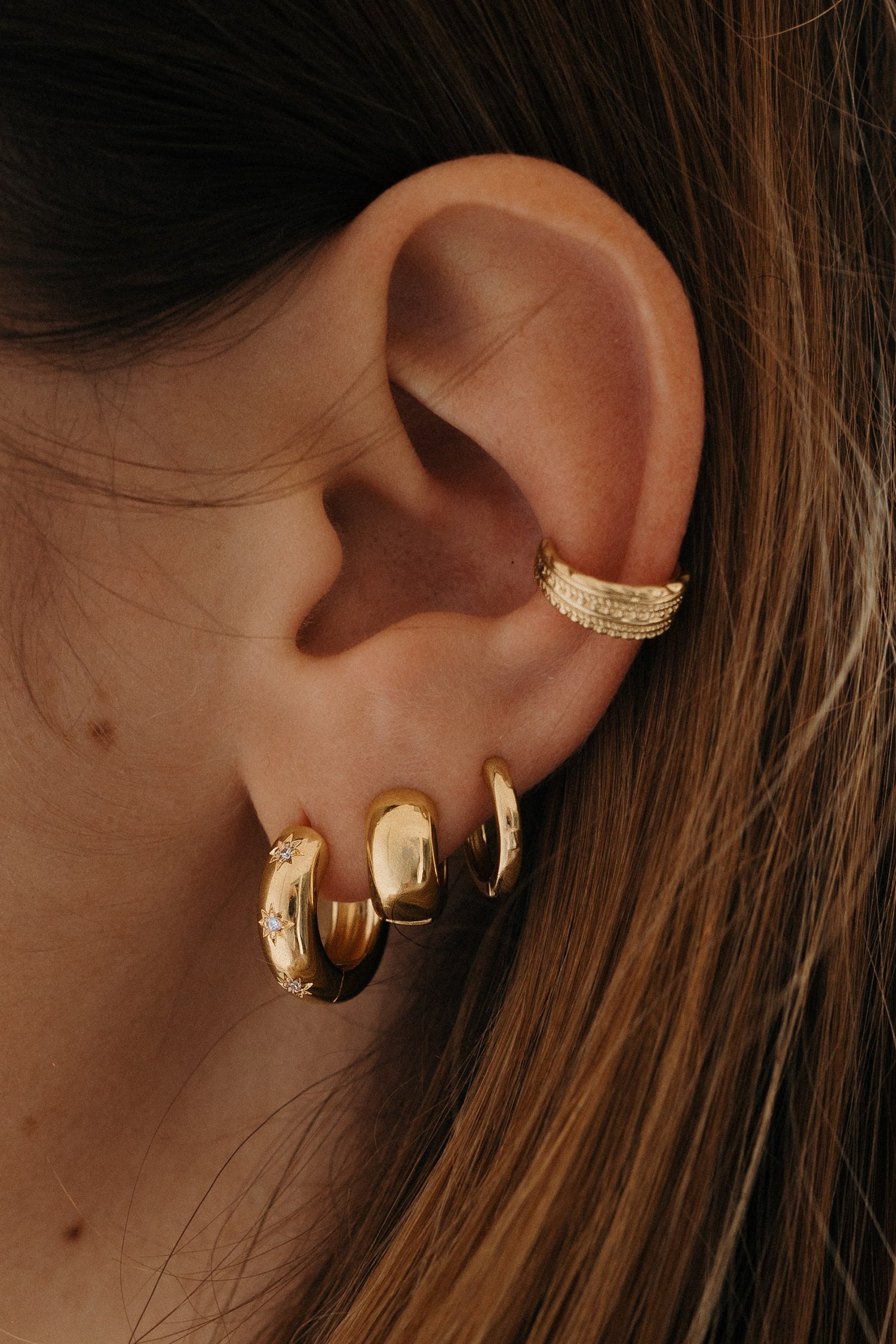 The popularity of mini hoops
In recent years, mini hoops have seen their popularity increase. In particular thanks to the networks, we have seen many influencers appear wearing several earrings on the same ear. Their compact size makes them perfect for everyday use, and their simple yet elegant design allows them to match any style.
Mini hoops can be gold-plated , silver , or other precious metals , and can be embellished with gemstones or cubic zirconia for a more sophisticated look. Mini hoops also come in a variety of sizes, ranging from very small diameters to slightly larger diameters.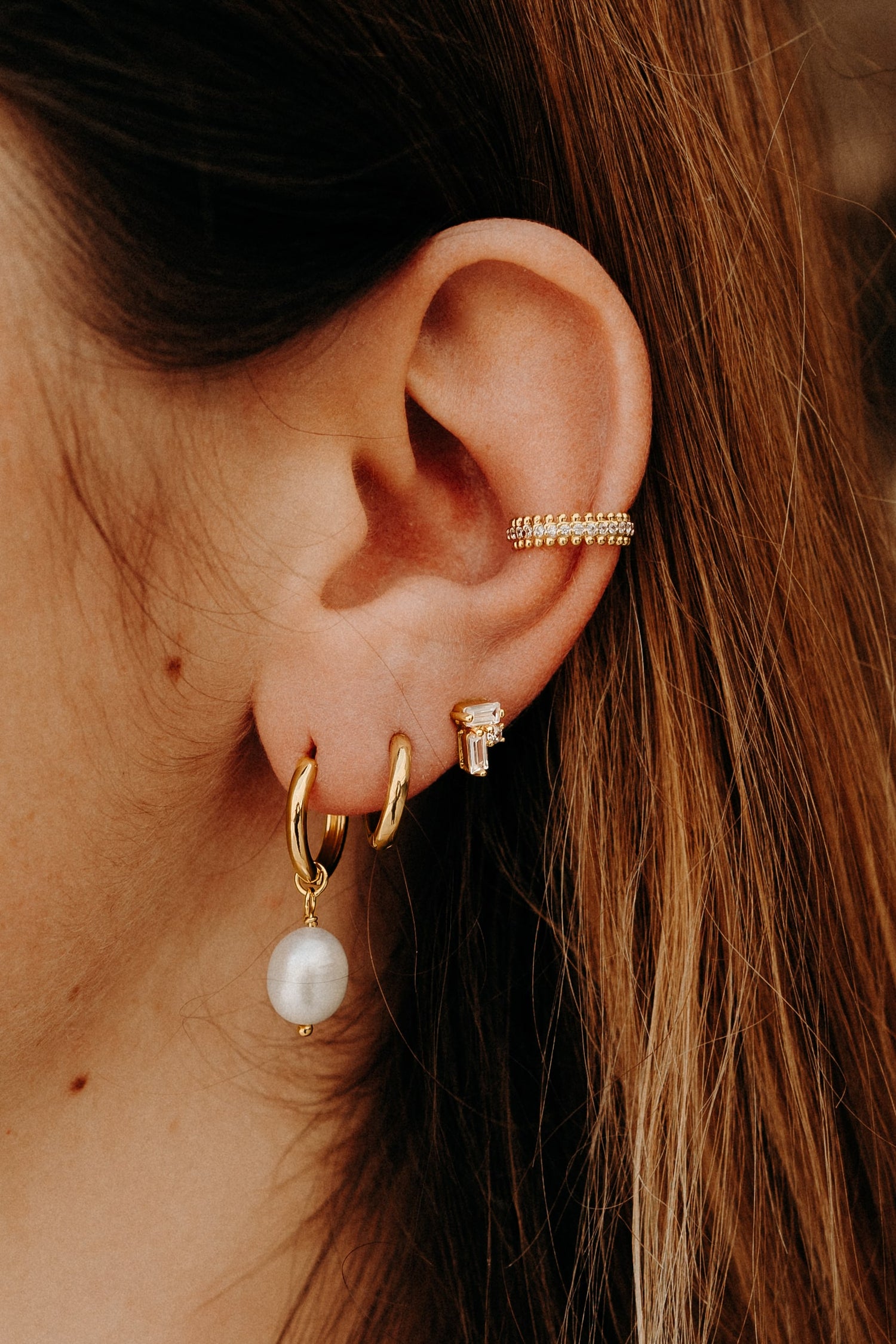 Unique Features of Mini Hoops
Mini hoops have unique characteristics that set them apart from other types of earrings.
Their size
Mini hoops are usually between 10mm and 20mm in diameter, but there are also smaller or larger mini hoops depending on individual preference.
Their shape
Mini hoops usually have a circular shape to be close to the lobe, but they can also be of different shapes, such as oval, semicircular, hexagonal.
Their Style
Often sold individually, mini hoops can be simple or original, depending on everyone's taste. Some mini hoops may have beads, dangles, colored or not, while others may have a smooth or textured finish.
Closing system
Mini hoop earrings have a closure system that can vary depending on the model, but the most common is the hinge system or otherwise called Russian clasp, which closes by clipping behind the ear. A system that is very easy to use and pleasant to wear.
How to wear and match mini hoops?
Mini hoops are timeless jewelry that can be worn with a wide variety of different outfits and styles. Here are some tips for wearing and matching them successfully:

Go for simplicity
The mini hoops have a simple and elegant design that makes them versatile and easy to wear. For a casual look, you can just wear them alone, without any other jewelry. For a more sophisticated look, you can combine them with other mini hoops, piercings or ear rings without piercing (ear cuffs) to create the composition that will define you.
Choose the right size
Mini hoops come in a different variety of sizes, ranging from very small 10mm diameters to slightly larger 20mm diameters. It is important to choose a size that suits your face and your earlobes. If you have a thin face, you can opt for mini hoops with a smaller diameter so as not to overload your face.
Pair them with the right clothes and the right haircut
Mini hoops can be worn with different styles of outfits, from casual jeans and t-shirts to elegant evening wear.
For a casual look, you can pair chunky mini hoops alone with jeans and a t-shirt or sweater. For a more sophisticated look, you can wear them set with white or multicolored zirconia by putting them with an evening dress or an evening outfit.
As for the haircut, when you have your hair tied up, don't hesitate to opt for thick mini hoops with a slightly larger diameter and rather worn alone. Conversely, when you want a more casual look, by detaching your hair, try to use several models of mini hoops by accumulating them as you wish with piercings.
If you only have one ear hole, you can adopt an ear cuff also called ear ring without drilling.
Choose the right metals
Mini hoops are available in different metals, such as gold plated or silver. The choice of metal depends on your personal preferences and the look you want to create.
In conclusion, mini hoops are versatile and timeless pieces of jewelry that can be worn with many different clothing styles. It is important to choose the right size, to associate them with the right clothes, and to think about your hairstyle to emphasize these elegant jewels.
CONCLUSION
Mini hoops are timeless jewelry that can be worn with any style of clothing. Their simple and elegant design makes them versatile, and their small size makes them practical for everyday use. Whatever your personal style, mini hoops are a great choice for adding a touch of glamor to your outfit.